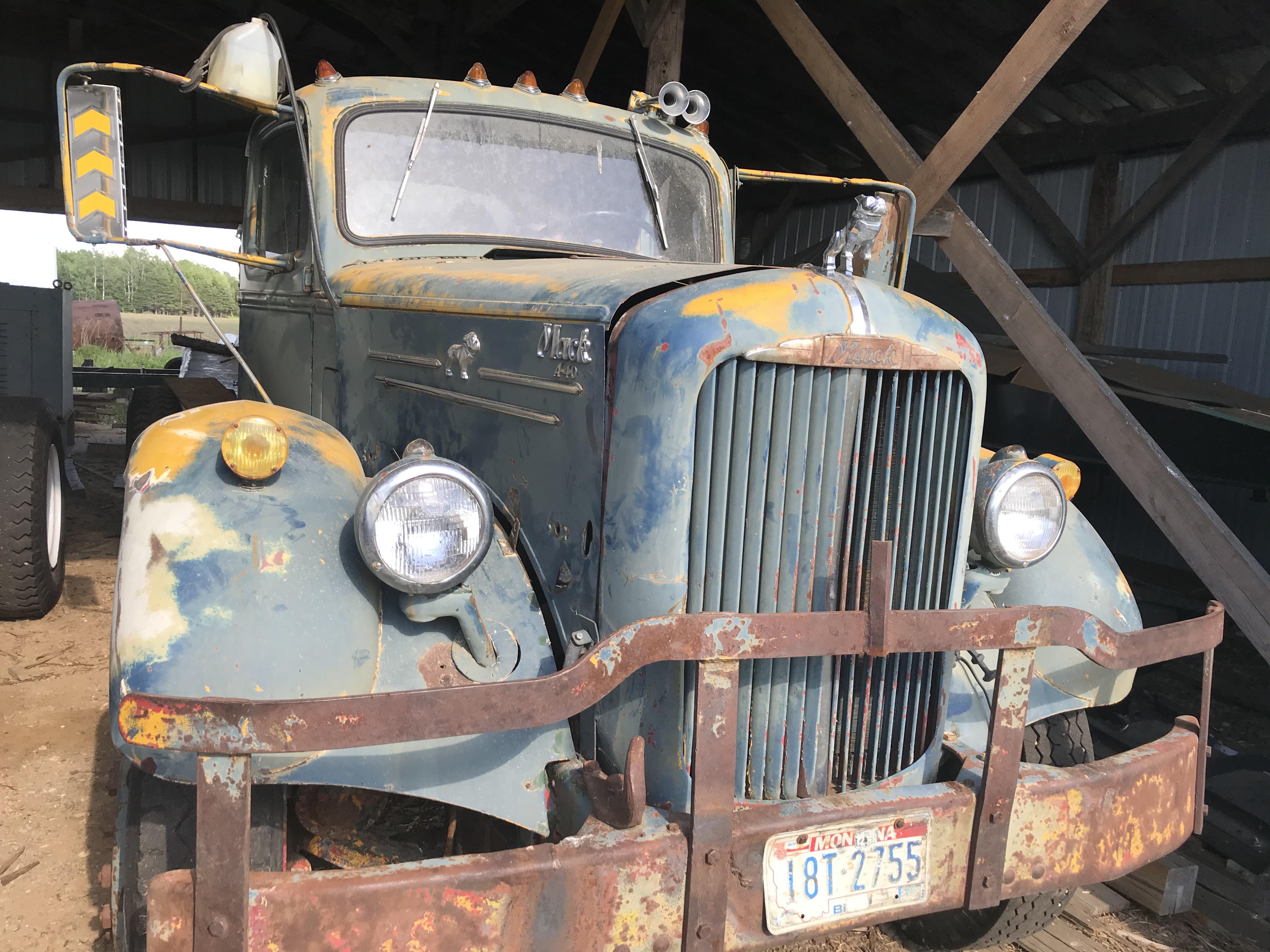 Scottyairborne
Puppy Poster
Content Count

29

Joined

Last visited
Community Reputation
13
Good
Profile Information
Location
Interests

First Mack truck, always loved and had a variety of classic cars, hot rods, 4x4s
Previous Fields
Make
Model
Year
Other Trucks
Recent Profile Visitors
The recent visitors block is disabled and is not being shown to other users.
Does anyone know what A Model this truck is? I am trying to better understand nomenclature. I think I under gas was even, diesel odds on A-models?

Budd duals to budd wide base single

Agreed, it was the only one that did. I wondered why there were perfect holes in the seat backs. When I stripped them, I saw it was a farm fix... the seat backs were filled full of D-con.

Under seat tank cleaned and ready to be reinstalled. Got a new 6v pump for it, so should be in business. Will run this tank only for now, as it is only poking around town and don't want a bunch of fuel going bad. I'm firm believer in keeping old tanks full, especially when they are rust free.

Stripped almost 70 years of mouse poops and nests from the seats. I will wrap with memory foam (I have it from a mattress topper) and do a home upholstery for the time being. Always was a fan of blanket upholstery, so may do that for the season to have something to sit on. Will leave the tags I found intact...

I have a set 425/65 R22.5 tires and steel wheels coming for my Mack A40. The wheels are stud pilot (so are the axles). Do I need special lug nuts to run the single rather than dual wheel configuration? I am hoping no change is needed for the hub, as it already has Budd style wheels, just in a duality configuration.

Paperwork and seat tag match for sure

It has already been modified, it was an A40S and frame has been chopped off Right behind the drive axle, the hood and passenger door handles have bad "field" fixes. I don't consider changing tires and wheels a mod, as they can be changed right back. The bed/chassis configuration has clearly been changed a few times. I don't feel like adding a sleeper box (not cutting the cab) is a mos either, since it is easily taken back. But if you want to "restore it," make me an offer. I have cleaned the under seat tank and started preparing the seats to rebuild. Hopefully dumping the old gas and cleaning the mouse poop out of the seat springs didn't hurt the originality too much.

I am leaning towards throwing on some 445/65r22.5s in the rear. That would perhaps soften the ride, help with fuel, and give me all the top end needed. After measuring it up, I think one winter project will be channeling a flattop 369 sleeper. A 36" sleeper leaves me 8 feet to end of the remaining frame rails. After a lot of looking and dreaming this seems like a great option.

Pulling the under seat tank to flush and fit a new low pressure pump. The old 6 runs really good. Then start cleaning the inside up. Will need the seats redone, basically just springs and some shredded vinyl and foam dust.

I think we are fortunate to have one in this shape for a family project. Not to down play how much it needs, but to be able to drive her home is a great start. Taking it a bit at time and keeping it driving. First up is complete fluid change, lube, gas tank internal cleaning.

Inventory on a few missing pieces: rear lights (I have plan there) passenger door handle (repairing their make-shift fix will be a project if it's own) hood handles for both side (I might have found one in the cab) Dog emblem on driver side hood I have the battery box cover that is off in the photos.

Hello Andy, happy to report from my title 1952 A40T7492. Engine number EN 377 491, with a triplex. 180" wheelbase, running strong. My 15 year old and I drove it across town to our shop yesterday, about 7 miles. Photos in a separate thread that I have started... Make that A40S.