Spider and S-Cam Alignment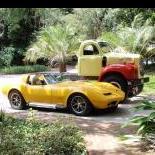 OK. So my questions are:
How much slop is there in the spider bolt holes?

It looks like if there is enough slop, I could rotate the spider and align (I hope I hope) the s-cam.
Everything is machined, so where is the S-Cam's "alignment adjustment"?

If I replace the spider, how is the spider aligned with the s-cam support?
Anyone have part number for a replacement spider?
---
From the album:
27 images
0 comments
12 image comments
---
Photo Information for Spider and S-Cam Alignment