I bought an air compressor for my Detroit Diesel 6V53T. (Bendix Westinghouse TU-Flow Model 501)
It is a power take off model which bolts to the accessory cover on the flywheel housing.
While cleaning up the pump I noticed that the air cleaner was shot. It looked like ground up carbon.
I cleaned the inside of the housing, and now I need a new air filter.
When I removed the head from the pump, I noticed that the pistons were stamped "0.10 OS"
The cylinders are scorn, so maybe I need to have the cylinders honed, and new rings installed.
I would like to buy a gasket kit/filter replacement parts for the pump I have, but I do not know where to find them.
Here is the information I have:
Model: 501
Serial: K2494
Part: 286538
The air filter housing has number: 236594F
The head has a casting number of: 294146
The block has a casting number of: 249960
Pictures: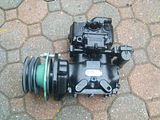 Any ideas???
Chris